Conference Venues
The Symposium will take place at the Father Madden Hall in Carr Hall (CR) – Building #426 (100 St Joseph St Toronto ON M5S 2C4, University of St. Michael's College, in the University of Toronto – Saint George Campus).
Please refer to the University of Toronto website for information on getting to campus.
Carr Hall – Father Madden Hall
St Michael's College – University of Toronto
100 St Joseph St, Toronto, ON M5S 2C4
Pontifical Institute of Mediaeval Studies (PIMS) – Laurence K. Shook Common Room
59 Queen's Park Cres E – Toronto, ON M5S 2C4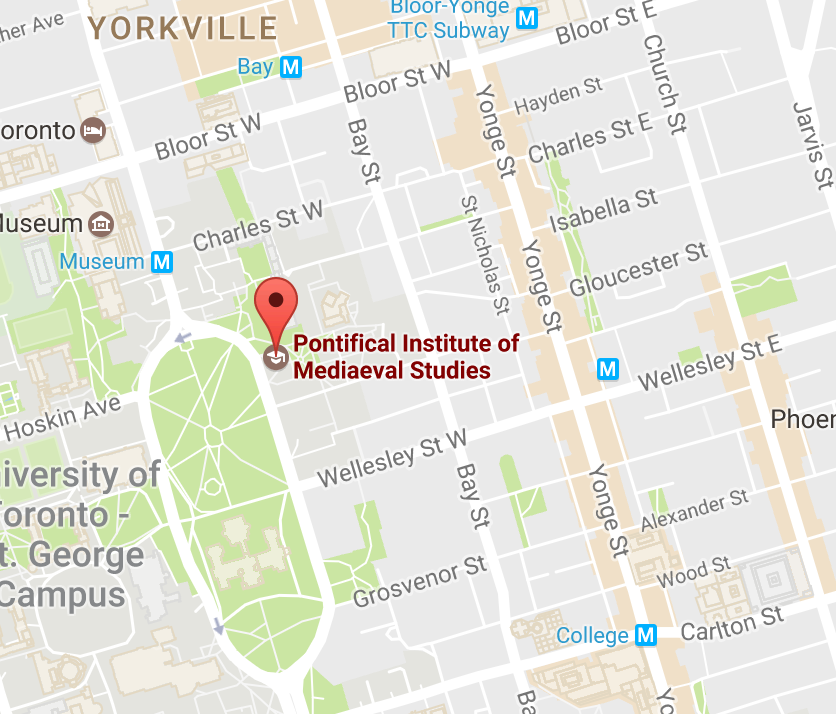 Istituto italiano di Cultura
Parking options at Saint George Campus
There is street parking on Howard Street, St. George Street, Hart House Circle, and King's College Circle.
Saint-Michael's College and Victoria College offer parking options on a first-come, first-served basis; it is not possible to book spots (attention, in daytime the parking lots are often full).
Saint Michael's College has a (small) parking lot off St. Joseph Street which can be used by everyone (entrance between the Muzzo Family Alumni Hall at 121 St. Joseph Street and the Toronto School of Theology at 47 Queen's Park Crescent East; parking rates can be found under the sub-heading "Parking" at https://stmikes.utoronto.ca/maps/#Campus_Buildings_and_Street_Addresses (currently 14 dollars for daytime parking, 24 dollars for 24-hour parking).
Also Victoria College offers parking space both above ground (various locations) and underground (under Rowell Jackman Hall, 85 Charles Street West). All parking permits must be purchased at the front desk of Victoria University's Residence Services on the ground floor of Margaret Addison Hall, 140 Charles Street West (entrance on the right- hand side of the Goldring Student Centre at 150 Charles Street West). Parking rates can be found here (currently 12 dollars for daytime parking, 22 dollars for a 24-hour pass, 85 dollars for a week pass).
Travelling to Toronto
General information
The Government of Canada takes a way toll (called ETA "Electronic Travel Authorization" or AVE "Autorisation de voyage électronique") of currently 7 $ Canadian from every person entering the country. Canadian citizens and permanent residents of Canada are exempted.
For more information, visit the website http://www.cic.gc.ca/english/visit/eta.asp (English) or http://www.cic.gc.ca/francais/visiter/ave.asp (French).
Toronto can be reached by air, by train, by coach, or by car. There is currently no ferry service across Lake Ontario.
 Flight
Toronto has two main airports:
1) Lester B. Pearson International Airport (YYZ)
Toronto Pearson is a destination of all major international airlines, with direct flights from most of the world's major airports. (https://torontopearson.com).
From the Pearson International Airport, you have several options:
There is a taxi stand just outside of each airport terminal. Normal taxi fare from the airport to downtown is somewhere between 50 and 60 Canadian dollars, depending on the precise destination (at rates). Be careful to insist on the normal fare when offered a minivan. "Limousines" are more expensive.
There is an above-ground train, the UP Express, whose station is located inside Terminal 1 and which goes to Union Station, where you can catch the subway line 1 ("Yonge line"/"University-Spadina line"). There is an intermediate stop near the subway station "Dundas St West" (line 2, "Bloor-Danforth line"). The cost of a ticket from the airport to Union Station is currently 12.35 Canadian dollars. Travel time from Pearson to Union Station: 25 mins. For the subway, you have to add 3.25 dollars.
Bus + subway. The public transit system is called TTC ("Toronto Transit Commission"). Bus line 192 (called "Airport Rocket") runs from Pearson to the Kipling Subway Station. Be careful to get on a bus that runs in the right direction. From Kipling, you can take the Bloor- Danforth subway line to downtown (stops at St George, or Bay, or Bloor/Yonge). Change at St George will bring you to the conference venue (stop at Museum on the University- Spadina line) and to the Strathcona Hotel (stop at Union Station) To reach the Holiday Inn Toronto Downtown Centre and the Bond Place Hotel, change at Bloor/Yonge. The cost of a one-way TTC trip (including free transfers between the subway, busses, and street-cars) is 3.25 CAD. Count on a travel time of at least one hour for the whole trip.
2) Billy Bishop Toronto City Airport, known as City Centre Airport (YTZ)
As the name shows, this is located very close to the city centre, on an island in Lake Ontario. Serviced by Porter Airlines and Air Canada, with direct flights from most major cities in eastern Canada and the eastern and midwestern United States. (https://www.portstoronto.com/airport.aspx)
From the Billy Bishop Airport, you can either walk through the Pedestrian Tunnel or take a ferry which runs from the island airport to the mainland every 15 minutes (free for pedestrians).
Once you are on the mainland, you can take:
the Porter Airlines Shuttle Bus (free from the mainland ferry terminal), which will take you near Union Station,
the 509 Harbourfront streetcar ($3.25 for a one-way trip) to Union Station.
From Union Station you will be able to transfer to the subway, on the same ticket.
Taxi fare from the mainland ferry terminal to downtown hotels is typically around 10 Canadian dollars.
For further information about the TTC please refer to http://www.ttc.ca/
Train
Toronto's main train station is Union Station, serviced by direct trains from all major Canadian cities (http://www.viarail.ca/).
Getting to Saint George Campus from Union Station: Outside the main entrance of Union Station, you will see the subway station; take a westward train ("University-Spadina line", "West", "Downsview", "Sheppard West", or "Vaughan"); the stop for the campus is "Museum." In order to get to the Holiday Inn Toronto Downtown Centre or to the Bond Place Hotel, take an eastward train ("Yonge line", "East", or "Finch").
Coach
Toronto Coach Terminal is located downtown at 610 Bay Street, between the subway stations St Patrick (walking distance: 0.4 km, 5 min) and Dundas (walking distance: 0.3 km, 4 min). It is serviced by Greyhound, Megabus, and Ontario Northland.
Car
If you are driving please be aware of the traffic downtown.
Lodging in Toronto
Saint George Campus is located Toronto Downtown. There are many accommodation options in the area at a variety of rates.
You will find below a list of accommodations near to the campus. Alternative solutions may be found on the website www.airbnb.ca/Toronto.
In any case, attendants are asked to make their own reservations, contacting the establishments directly.
University Residences
Hostels 

One excellent low-budget option is offered by the best hostel in town which is also at walking distance from Saint George Campus, in the vibrant area of Kensington Market and Little Italy.
The Planet Traveler
357 College St, Toronto, ON M5T 1S5
+1 (647) 352-8747
More details here: https://theplanettraveler.com
Bed and Breakfast
Among the B&B in Toronto, these are the closest from campus (10-20-minute walk).
| | | | |
| --- | --- | --- | --- |
| Victoria's Mansion | 68 Gloucester St. | Victorian house with private bathrooms and several different room choices. No breakfast served, but each room does have a fridge and a microwave. | http://www.victoriasmansion.com/ |
| Downtown Home Inn | 2 Monteith St. | Free breakfast and shared bathrooms | http://www.downtownhomeinn.com/ |
| Spadina 11 Guesthouse | 11 Spadina Rd. | Private or shared bathrooms. No breakfast served, but each room is equipped with a mini-fridge, microwave and coffee maker. | http://www.spadina11guesthouse.com/ |
| Beverley Place Bed & Breakfast | 226 Beverley St. | Set in two restored Victorian homes. Private bathrooms and full breakfast served. | http://www.beverleyplacebandb.com/ |
| Baldwin Village Inn | 9 Baldwin St. | Set in a Victorian home with a street-front patio and lounge. Continental breakfast included. All rooms have shared bathrooms. | https://www.baldwininn.com/ |
| Les Amis Bed & Breakfast | 31 Granby St. | Victorian townhouse with options for private or shared bathrooms. Breakfast will be vegetarian, with vegan option. | http://www.bbtoronto.com/ |
| Isabella Hotel & Suites | 556 Sherbourne St. | Set in a Victorian mansion with a private bathroom for each room. Free continental breakfast included. Coffee machines and fridges in all rooms. | https://isabellahotel.com/ |
| Jarvis House | 344 Jarvis Street | Set in a Victorian home, offering private bathrooms and cooked breakfast. | http://www.jarvishouse.com/ |
Hotels
Among the hotels in Toronto, these are the closest from campus (10-20 minute walk).
Where to eat
Gallery Grill – Hart House Restaurant on campus. $$$ http://harthouse.ca/gallery-grill/
Clay Restaurant – Gardiner Museum Restaurant close to the campus, top floor of the Gardiner Museum $$$ https://www.gardinermuseum.on.ca/visit/clay-restaurant/