The Research Project
In 2015 the world celebrated the 750th anniversary of Dante's birth and started preparing the celebrations for the upcoming anniversary of his death. No need to say, these anniversaries concern more than Dante himself, Dante's readers. What one should celebrate and discuss are centuries of readings, both silent and aloud; of commentaries and doubts; of the creation of ad hoc hermeneutic tools and import-export of interpretative categories from different disciplinary fields. Indeed, no other author and no other work have offered, from the very beginning, a hermeneutic workshop of equal richness. Not only have new interpretative theories been tested here, but Dante's work has also become the shared space in which different critical traditions meet and interact with one another. The variety of the tools of interpretation and modes of reading of Dante's work is also a problematic heritage, transmitted and augmented by each successive generation, sometimes to the point of making scholarship on Dante an authentic "dark wood" for those readers who approach it with the goal of simply understanding his writings.
Interdisciplinary by nature, ISCAD provides a space of discussion and elaboration among scholars coming from Dante Studies as well as from different traditions of studies by crossing a variety of methodological approaches: history of key categories in Dante studies and related fields of study; case studies to investigate the application of these categories to single episodes of Dante's work; discussion of the uses and abuses of these categories in Dante Studies and beyond.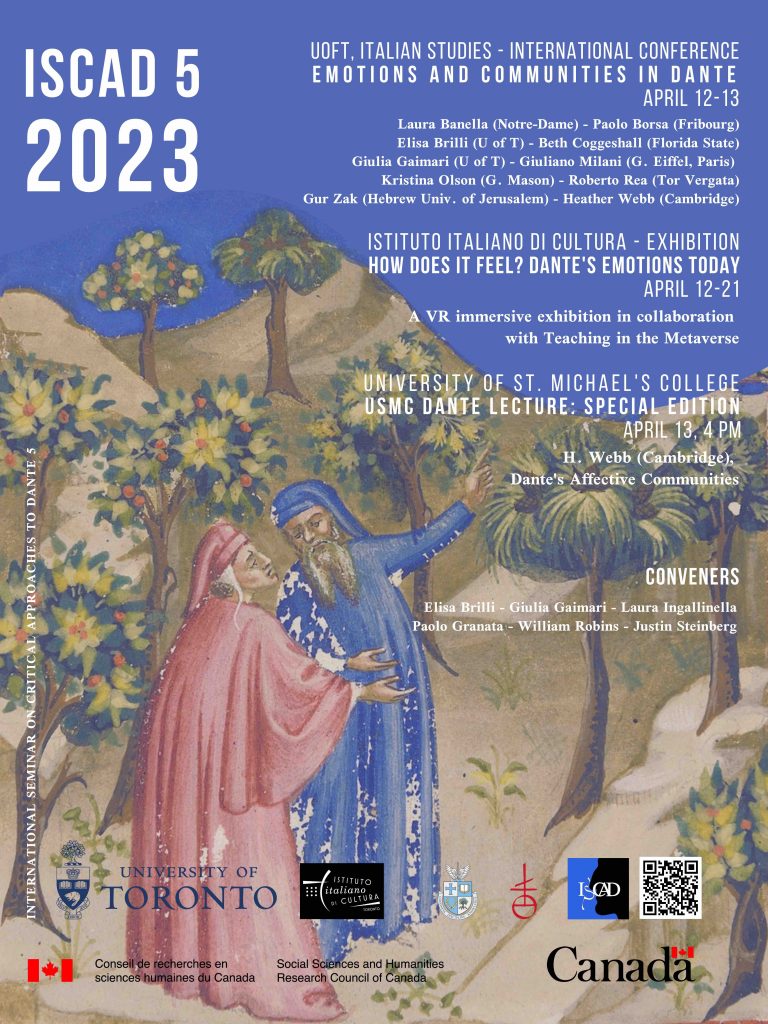 In 2015-2016, the first edition of ISCAD started exploring this heritage and questioning its future by taking into account two fundamental hermeneutic categories of 20th-century research: "Struttura/Poesia" and "Figura" (see brochure). In 2016-2017, the second edition of ISCAD focused on the Dantean categories of "Allegoria" and "Contrapasso" (see brochure). In 2017-2018, ISCAD explored the categories of "Authorship" and "Readership" (see brochure). In 2018-2019, the fourth edition of ISCAD hosted the 137th Annual Meeting of the Dante Society of America and studied the categories of "Plurilingualism" and "Visibile Parlare" (see brochure). During the Covid-19 Pandemic, ISCAD paused, and our team pursued a different activity: Toronto Salutes Dante, a series of multilingual readings of Dante's Inferno and interviews online open-access.
Since 2018-2019 ISCAD is also responsible for the compilation and publishing of Annotated Bibliographies intended to constitute research and teaching tools (explore ISCAD Bibliographies).
Since 2015, this research project and its network have constantly been growing and obtained the scientific endorsement of the Dante Society of America, as well as the generous support of a Connection Grant awarded by SSRHC.
We are looking forward to seeing you in Toronto!
ISCAD Committee
E. Brilli (University of Toronto)
G. Gaimari (University of Toronto)
P. Granata (University of Saint Michael's College)
L. Ingallinella (University of Toronto)
W. Robins (Victoria University & University of Toronto)
J. Steinberg (University of Chicago & Editor-in-Chief, Dante Studies)